Path to function: Preferences > Notifications
This preference page allows you to select your choice of metrics to include in optional daily and weekly summary emails. They will be sent to the address on your administrator account and depending on your choices there may be up to 8 emails per week (7 daily and 1 weekly).
For each type of notification on the page: decide if you want them included in a daily and / or weekly email by ticking the boxes. Selected lines will be included whether or not there is data to report. Ticking no boxes on a line means it will not be included in the email and if no boxes are ticked on any lines then no summary emails will be sent.
Where possible the email will link to more information in the administration area - e.g. a list of the accounts due to expire so that you can take action.
Immediate notifications about resources being added, removed or modified are not affected by this page. All possible notifications are listed on the page so there may be more here than you see in the audit page.
A typical email might look something like this: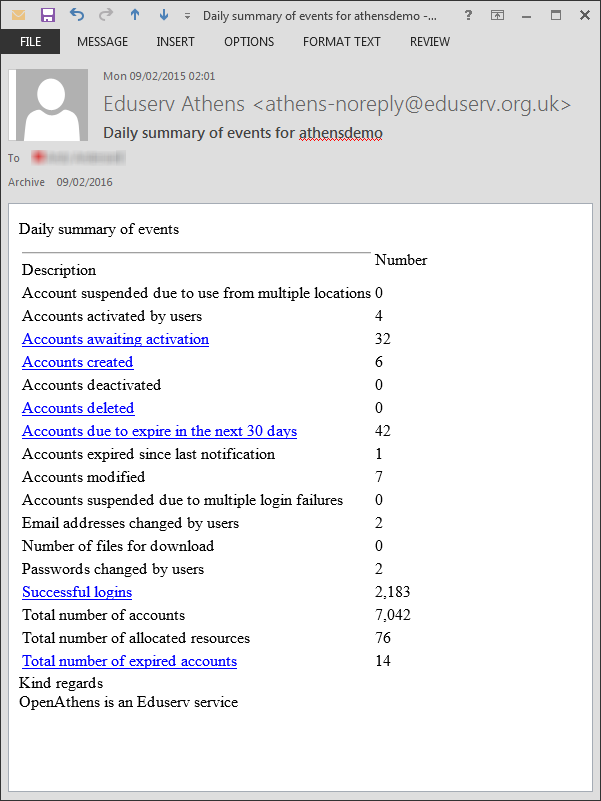 The notifications are linked to the account you signed in with and will be for the organisation or sub-organisation that account sits under. To receive notifications for additional sub-organisations you would need additional administrator accounts under those sub-organisations and to sign in with those accounts to set options.
Administrator enabled accounts that have not themselves set notification options do not receive these emails, and accounts that have the administrator role removed will no longer receive them.