MyAthens is a user portal that is available to all OpenAthens customers. It comes in two tiers: MyAthens Basic, which is available at no extra charge and includes basic account management functionality and limited customisation options, and MyAthens Plus, which is a paid for service that has all the additional features.
Sub-organisations inherit the MyAthens setup of their parent organisation. If a parent organisation has MyAthens plus then any sub-organisations that have their own scope are able to have their own instance of MyAthens plus. You will need to speak to your account manager to get this set up.
Path to function: Management > MyAthens
Users can access MyAthens at https://my.openathens.net where they can choose to search for their home organisation or use the generic authentication point. In most cases, users will have a better experience by searching for their organisation regardless of their account type.
MyAthens can also be accessed using a WAYFless URL. This is the recommended approach if you are publishing a link on your own pages or recommending a bookmark as it will bypass the part where they have to search for their organisation to sign in. Your WAYFless URL is specific to your organisation and can be found in the configuration tab. It is not the same as the WAYFless URL for old MyAthens.
Account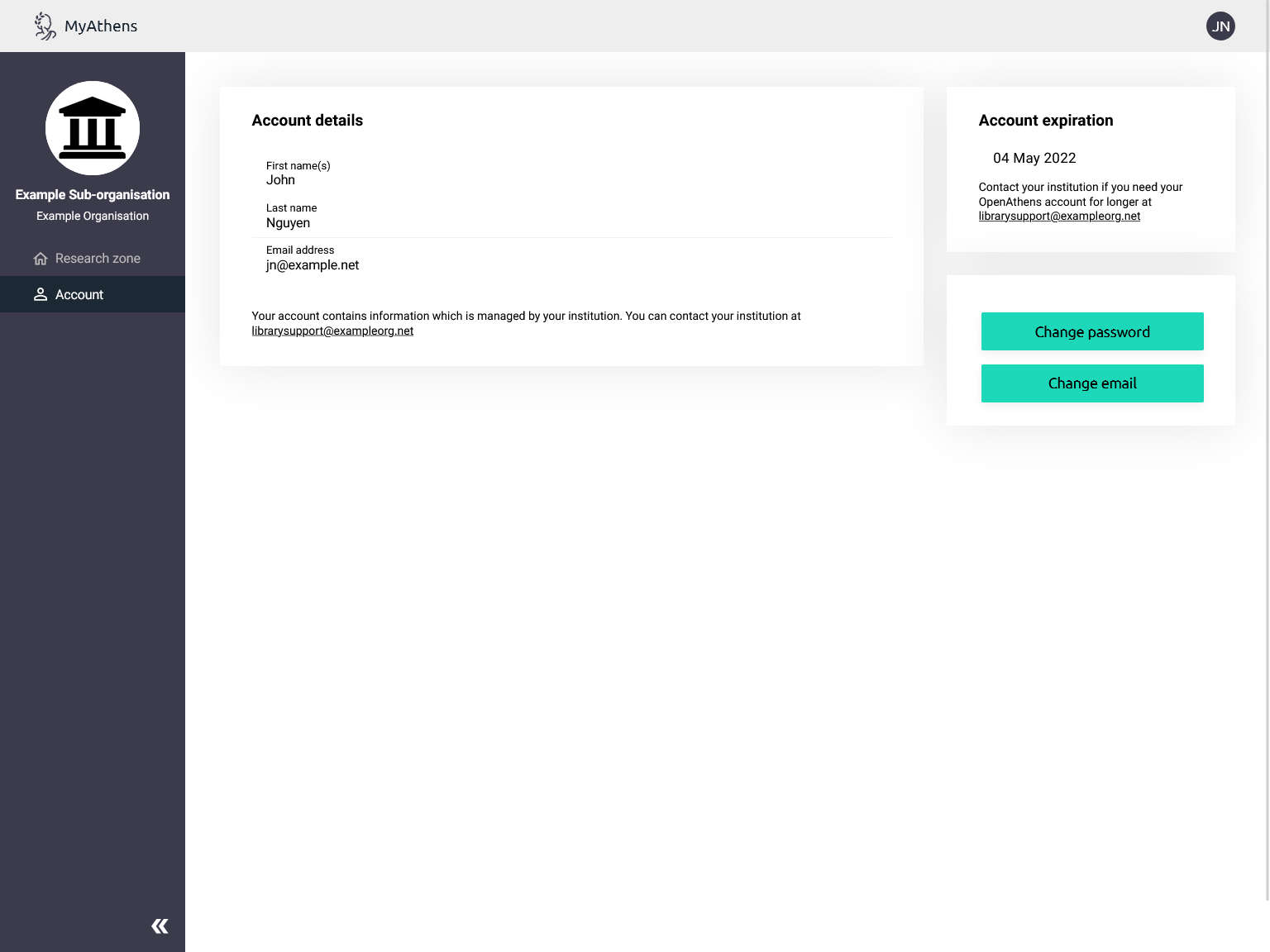 This page displays the user's account details. Users with personal accounts can view their account expiry date and change their password here.
Research zone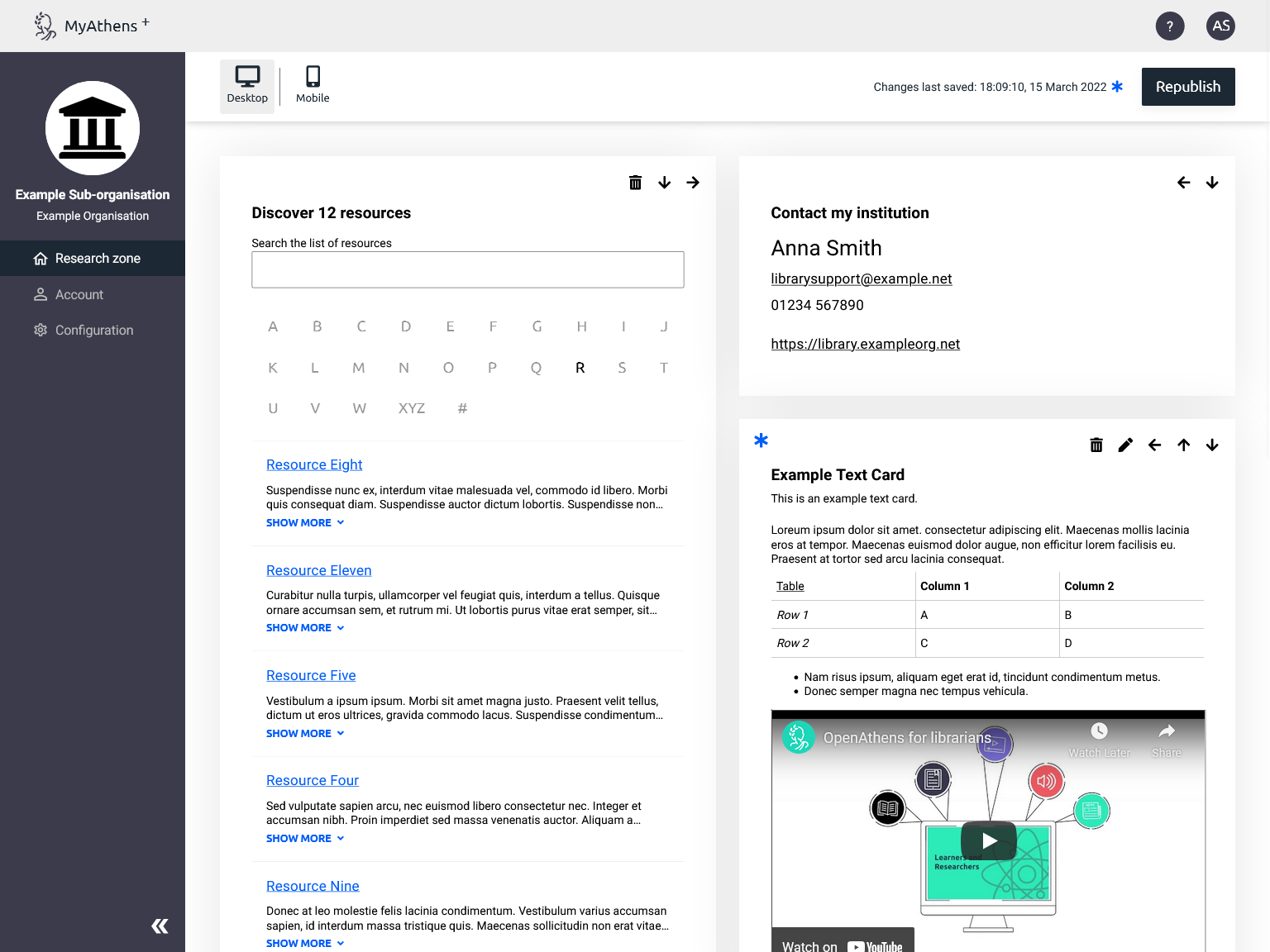 The research zone is the main page where you can add content and information to be displayed to your users in the form of cards.
There are six different card types that can be available:
| | Basic has | Plus has |
| --- | --- | --- |
| Contact details | 1 | 1 |
| Text | 1 | Many |
| Button | 1 | Many |
| List of resources | n/a | 1 |
| Curated list of resources | n/a | Many |
| Content discovery | n/a | Many |
Adding and removing cards
You can add a new card using the button at the top of bottom of the page. New cards will initially appear at the bottom of the left column.
You can remove cards using the trash icon in the corner of the card. When a card is removed, it is permanently deleted. You cannot remove the contact details card unless there is a button or text card present.
Card layout
You can change how the cards will be displayed on the page by using the arrows in the corner of the card. There are two layouts, selectable at the top of the page - desktop has two columns and mobile has one: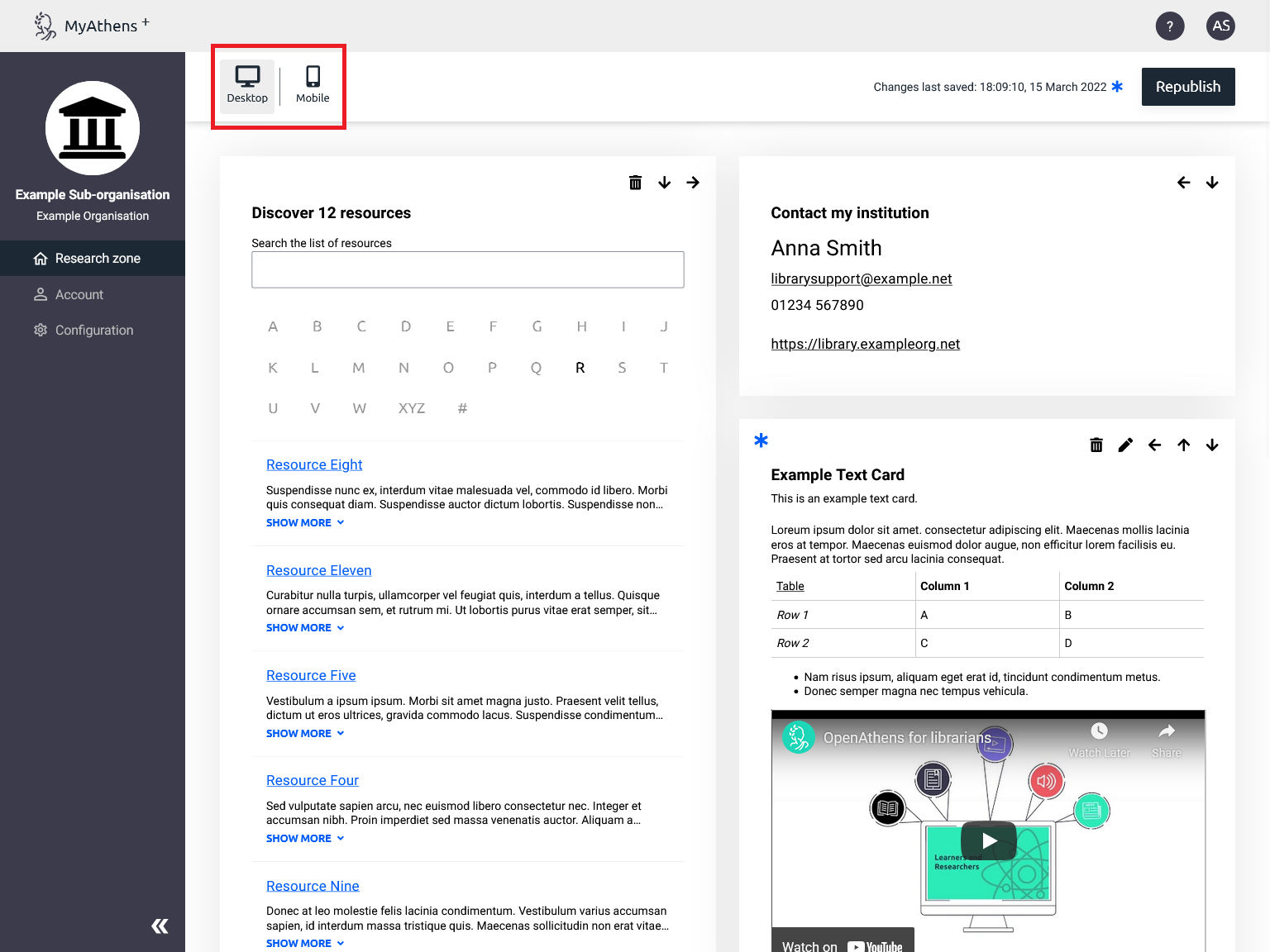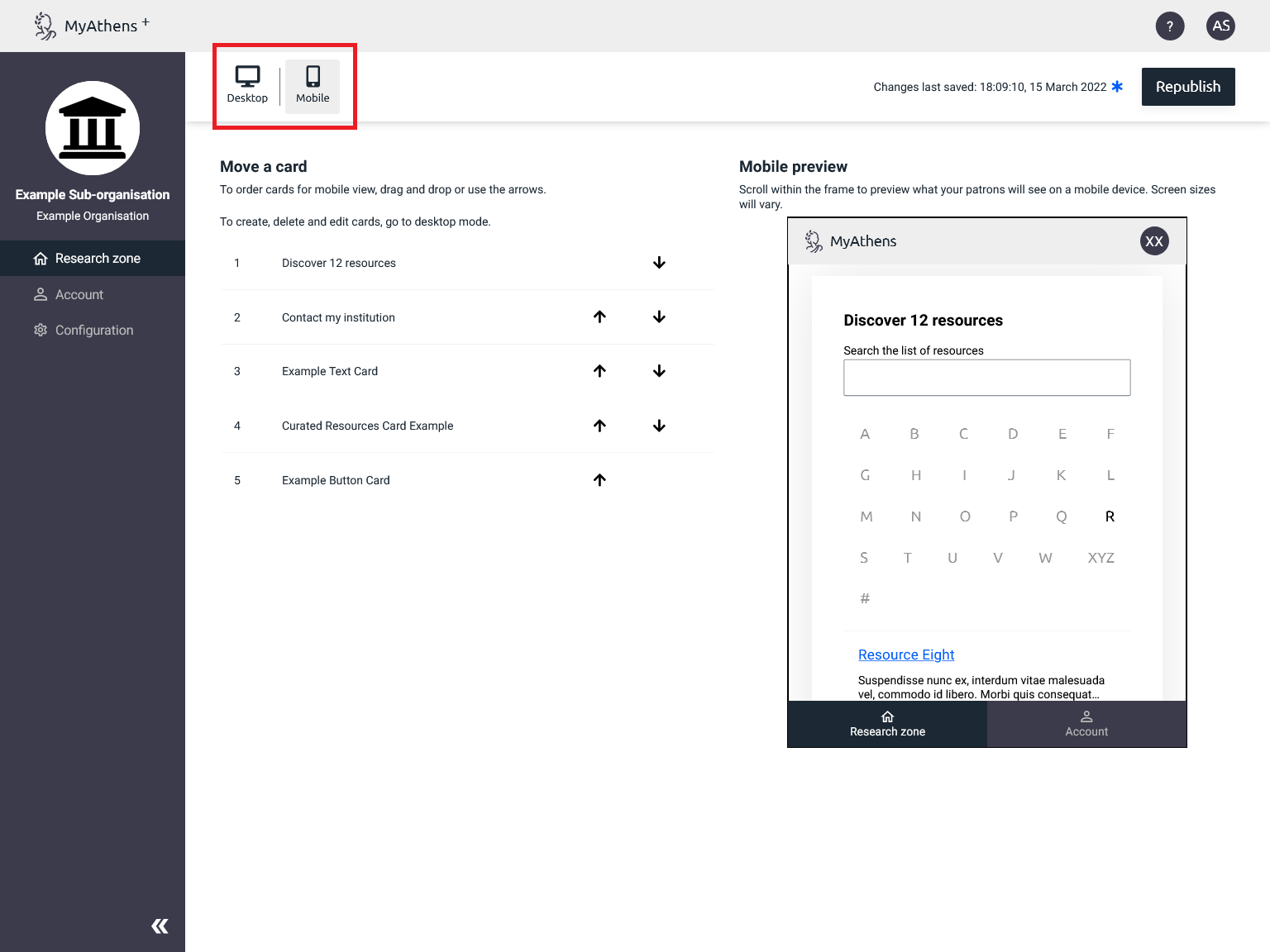 Publishing
You will need to publish any changes that you have made to be visible to your users and there is a blue asterisk displayed when there are unpublished changes.
Published configurations cannot be unpublished and deleted cards cannot be recovered.
General cards
These cards are available in both MyAthens Basic and MyAthens Plus. MyAthens Basic has a limit of one card of each type. In all cases, at least one of Text, Contact details, or Button card must be present.
Contact details
A card that contains your organisation's public contact details as set in your organisation preferences. This card can only be removed if there is a text or button card present.
Text card
A card that can contain text, links, images, and embedded videos from YouTube or Vimeo. Use this for things like library information or links to resources that can't go on other cards - e.g. free or OpenAccess resources.
You can access advanced options such as tables, fonts and colours via the menu at the top of the editor.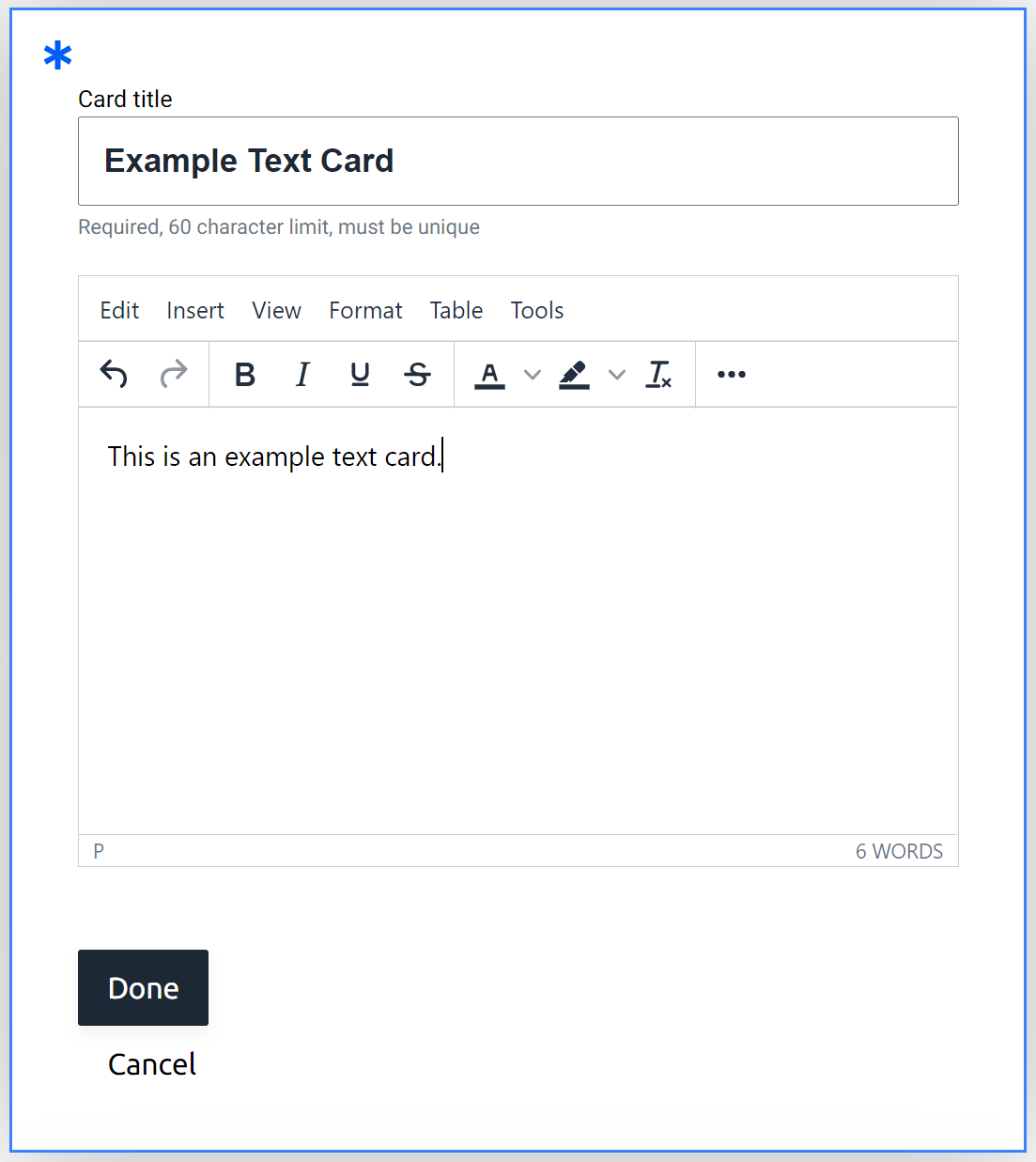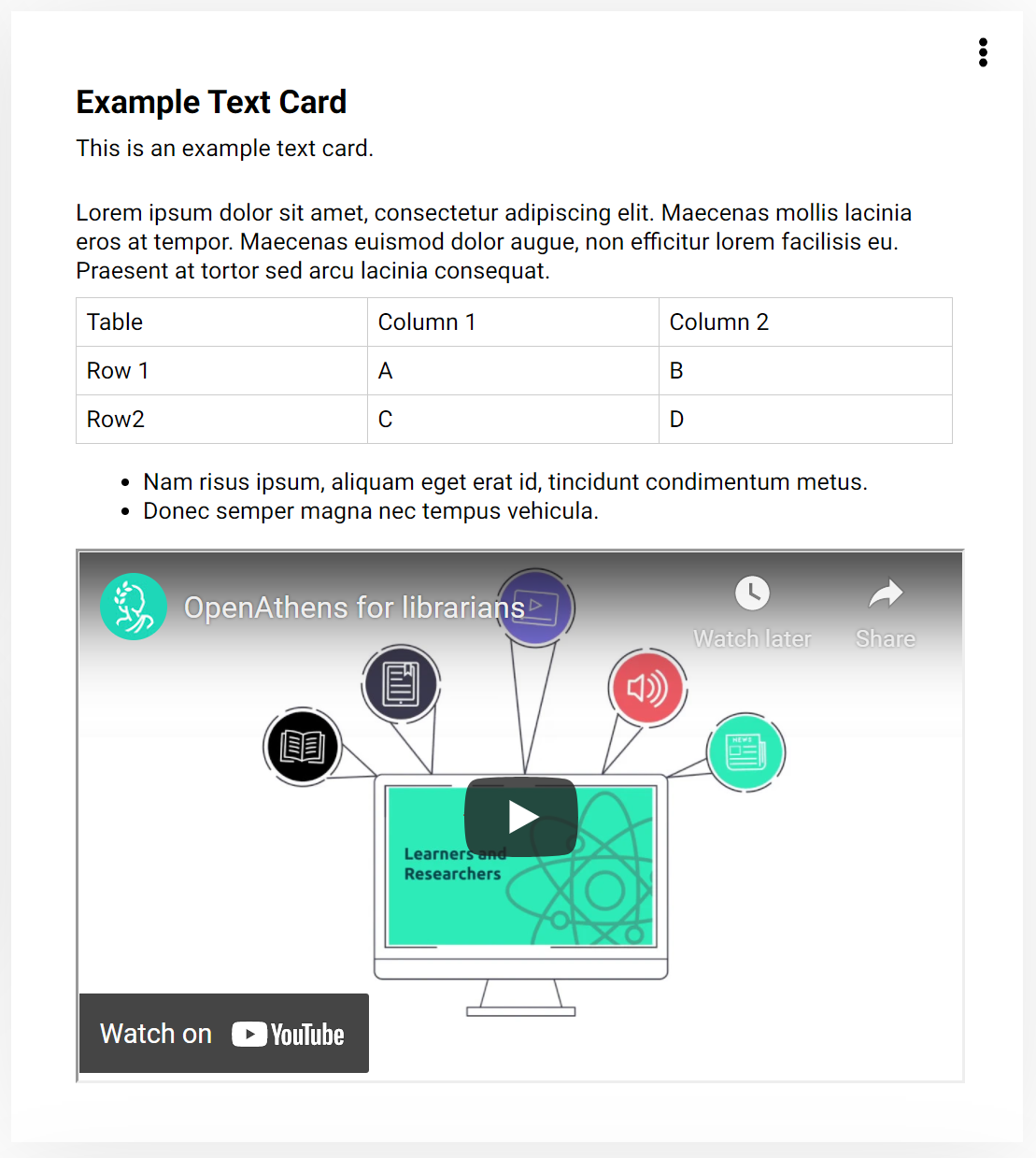 Button card
A card with a single customisable button. Use this for things like links to your own support portal or other library applications.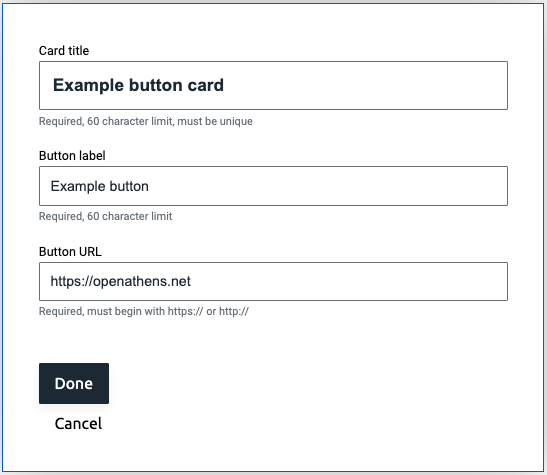 Extra cards in MyAthens Plus
List of resources
An alphabetical list of all of the resources in your catalogue that share a permission set with the user, including custom resources.
Resources can be hidden from this list without the need to remove them from sets by using the hidden from users flag in the resource catalogue. Users can mark resources as favourites which will sort them at the top of the list in favourites view.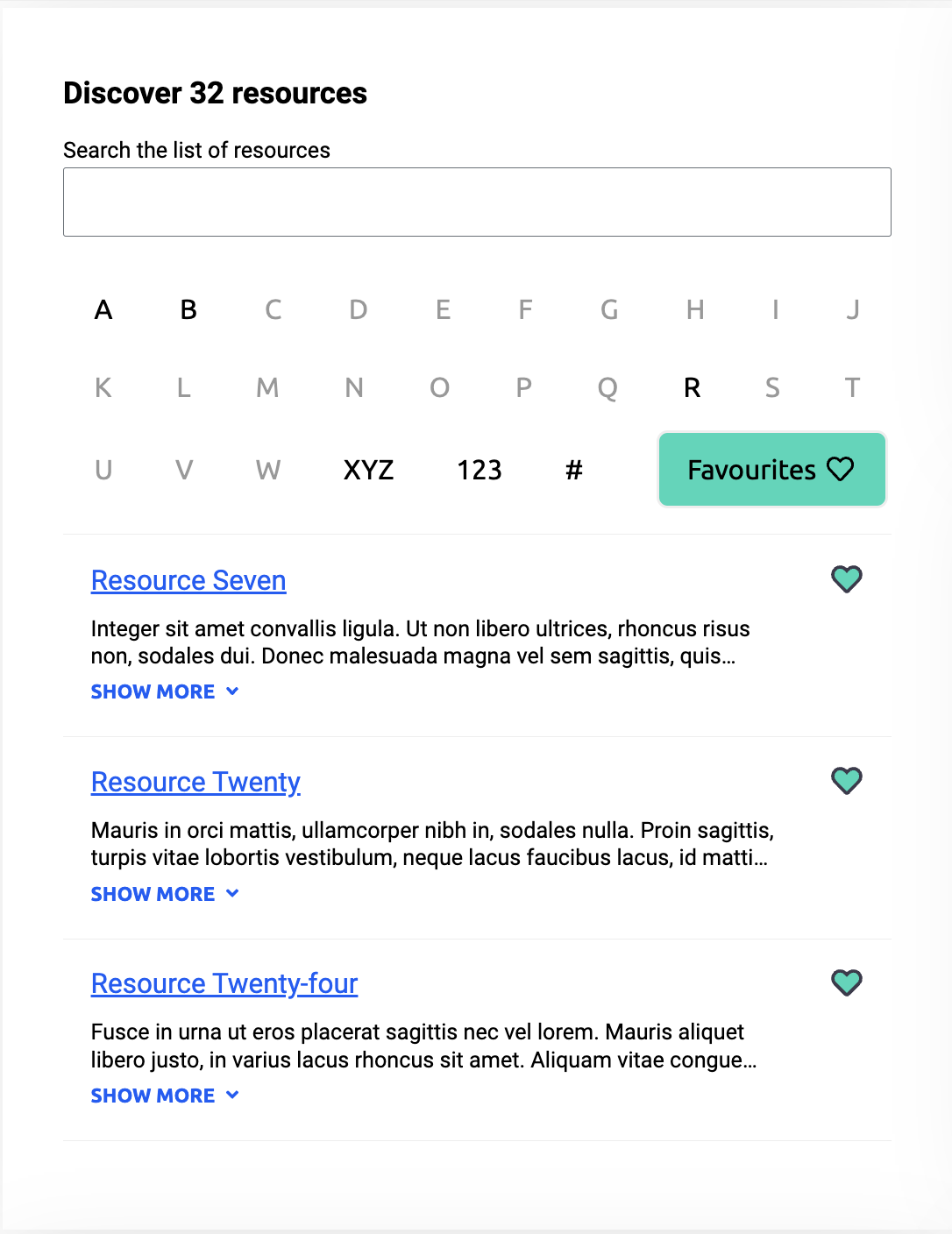 Curated list of resources
A sub-set of resources that are chosen by you. Any resource in your catalogue may be added to a curated list but they will only be displayed to end users if the resource and the user share a permission set. You can choose to show them in alphabetical order, oldest to newest or newest to oldest (sorting doesn't appear until you save).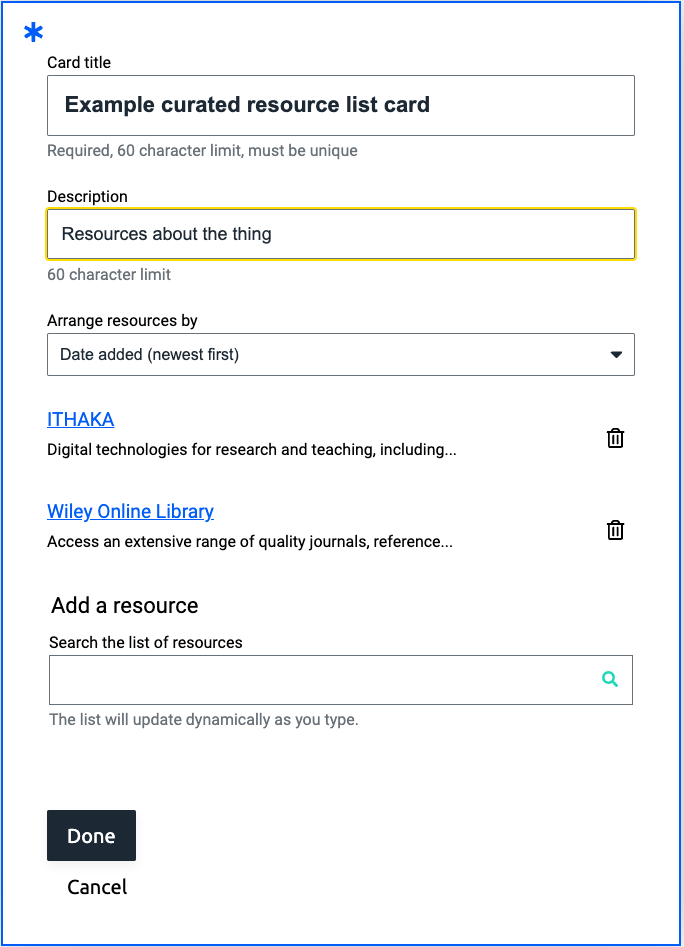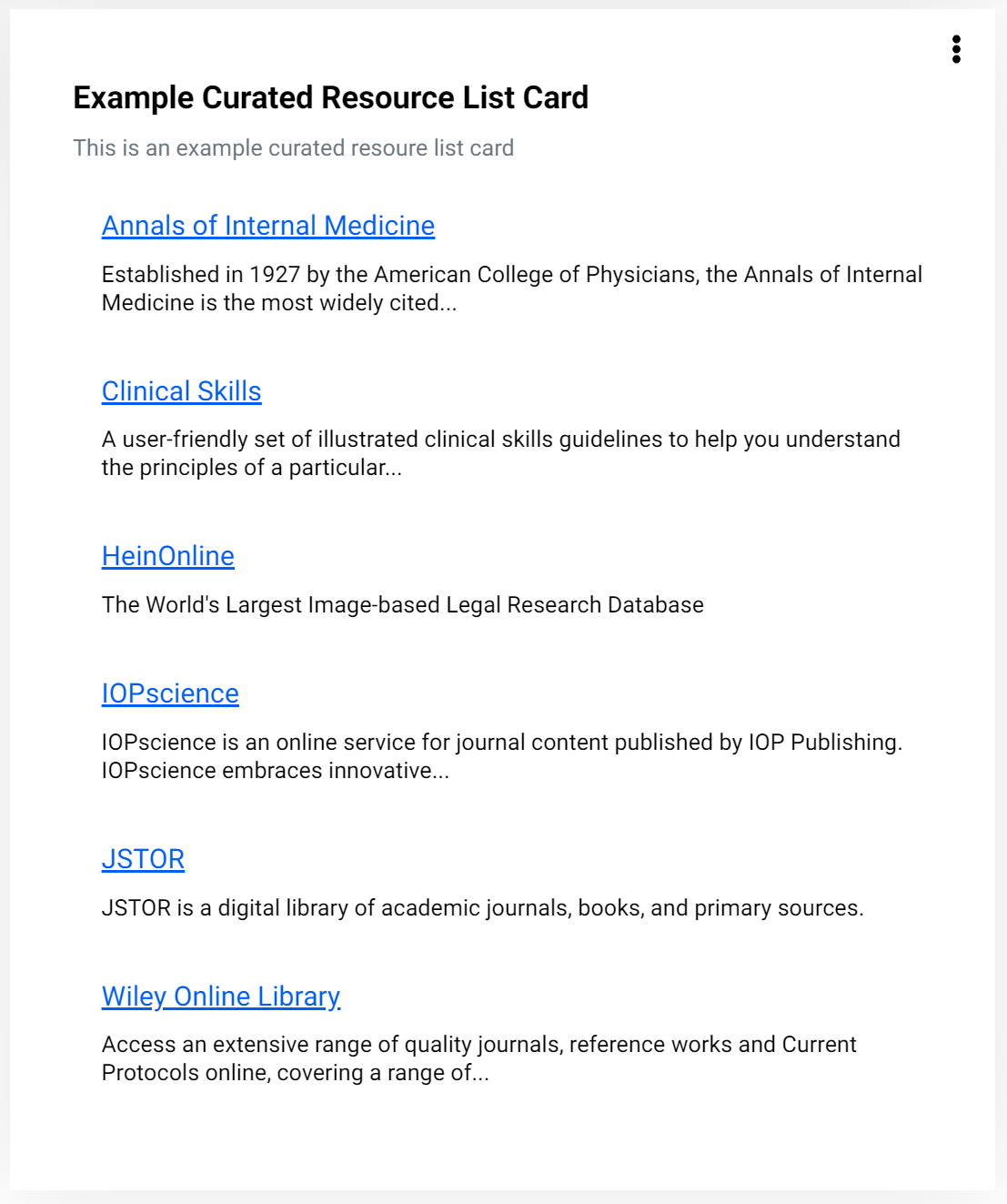 Content discovery widget
A search box linked to a content discovery service. The discovery services that it currently supports are EBSCO Discovery Service, EBSCO Publication Finder, TDNet Discover, Google Scholar, and for Open Access resources: CORE Discovery.
The first three only work in conjunction with those services, but Google Scholar and CORE are more widely available: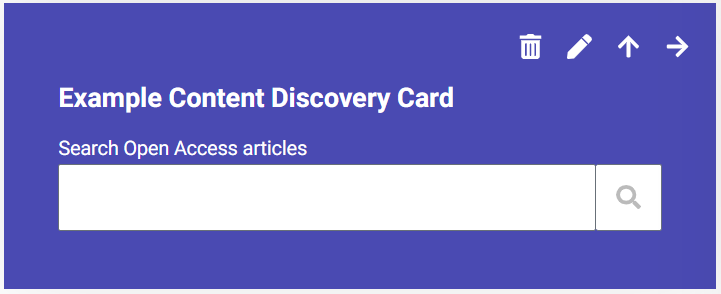 The TDNet one will ask for a customer domain, e.g. https://pymtechnologies.tdnetdiscover.com
The EBSCO panels will ask for a customer ID, e.g. s123456. You can provide a custom Profile ID, Group ID and authentication type under the additional customisation dropdown. The values are in your EBSCO portal.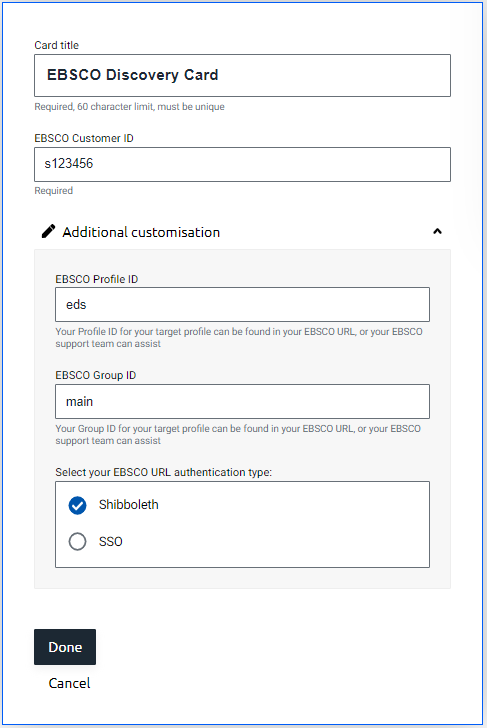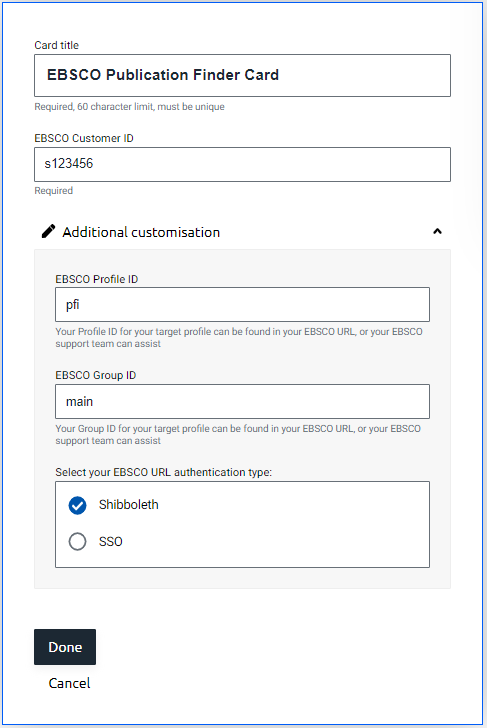 Administrator configuration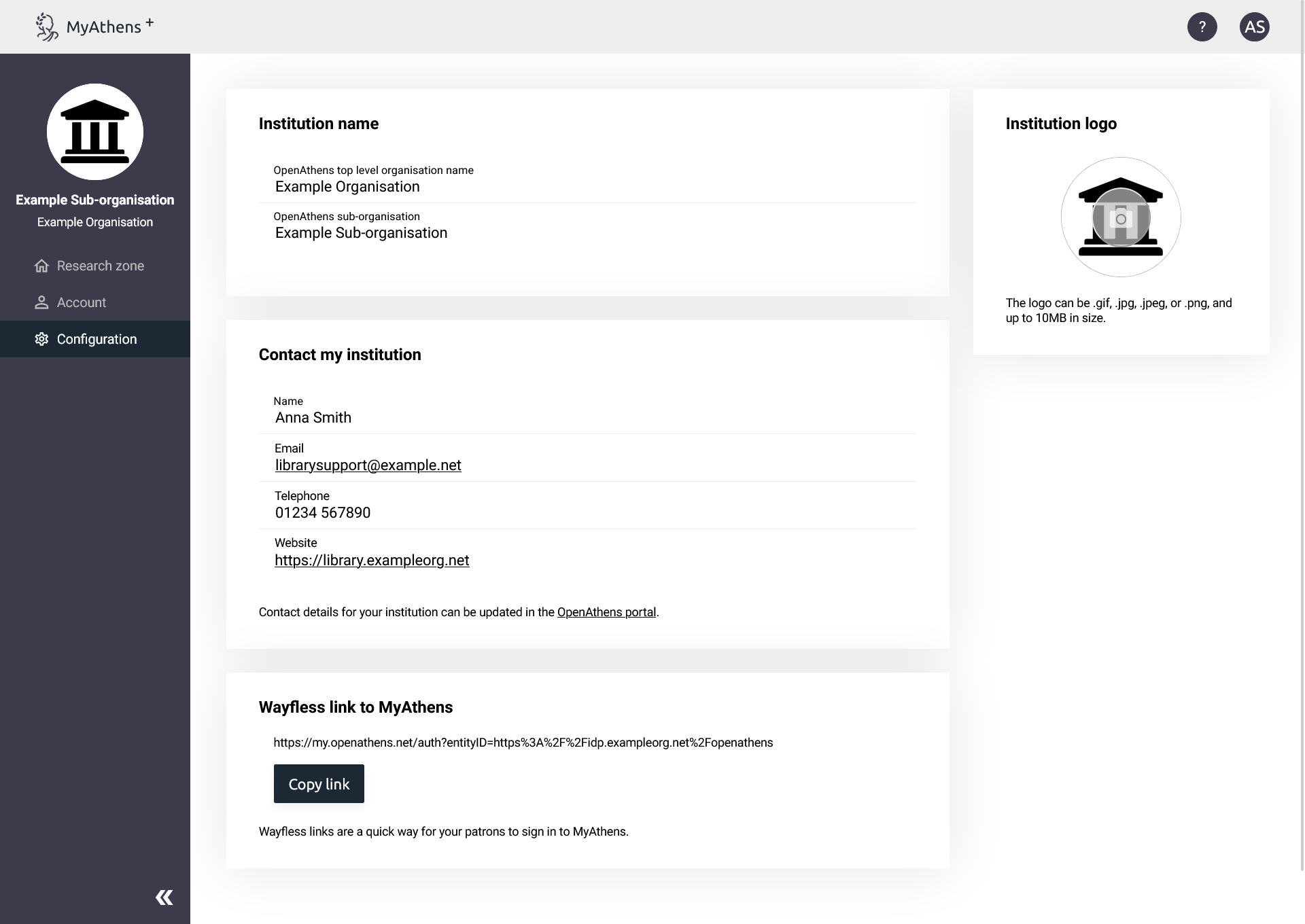 This page is only visible to administrators and shows the contact information that will be displayed to users in the Research Zone. The contact details and institution name are those set in your organisation preferences.
MyAthens uses the logo from your domain preferences but you can override it here if necessary - e.g. for better display against a dark background.