Path to function: Preferences > Organisation
The page is the equivalent to the edit function on the all organisations page and lets you define certain things about the organisation you are acting as, such as the organisation name, discovery hints and which accounts have an administrator role for this organisation.
As with account pages, this is split into sections for details and permissions
Organisation details
The organisation section contains information about your organisation domain or sub-organisation name. If a domain or sub-organisation with a unique identifier (status shown on the permissions tab), the organisation name will be visible to users and service providers in various locations:
MyAthens
The organisation search on our authentication point

Organisation contact details
Discovery domain hints help your end-users where discovery services (sometimes called WAYFs) allow them to enter their email address to find their home organisation. You should only enter the email domains that are unique to your organisation - e.g. myuniversity.ac.uk and not a webmail provider such as gmail.com. Enter the domains one per line.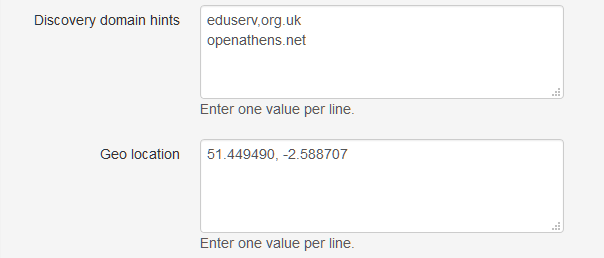 Geo location is another helper for discovery services that support it and you should enter the latitude and longitude of your organisation. If you have several locations you can enter them all, one per line. You do not have to list them on sub-organisations if you have listed them on the domain organisation. See also: finding your latitude and longitude.
This is also where you set and maintain the publicly visible contact details for this organisation.

These are the details that can appear in MyAthens and the authentication point to help your users find the right person to help them You must enter at least one piece of contact information out of phone number, email address, or website URL, and you should enter as many of the others as possible to best direct the user to the right place for help; they are also used if your domain is large enough to require searching across organisations / sub-organisations. Including both the name and an email address is usually desirable in that situation.
The contact details appear in:
MyAthens
The organisation list mentioned above
Account search results
If your domain administrator has added fields in the schema for organisation, they appear on this tab - this is often used by sites who have set up their own self-registration process using the API for things such as:
Organisation aliases - for alternative names for your organisation that may be used by your users
Trusted email domains - e.g. myorg.com (not @myorg.com)
Trusted IP addresses - e.g. 123.12.34.* or *.mydomain.net (not addresses with slashes or colons)
Telephone support pin
This is requested by our service desk if you have to phone them up so they can be sure it's you. You should probably make a note of it before you forget your password.
Administrators
This tab is where you manage administrator roles to accounts under the organisation.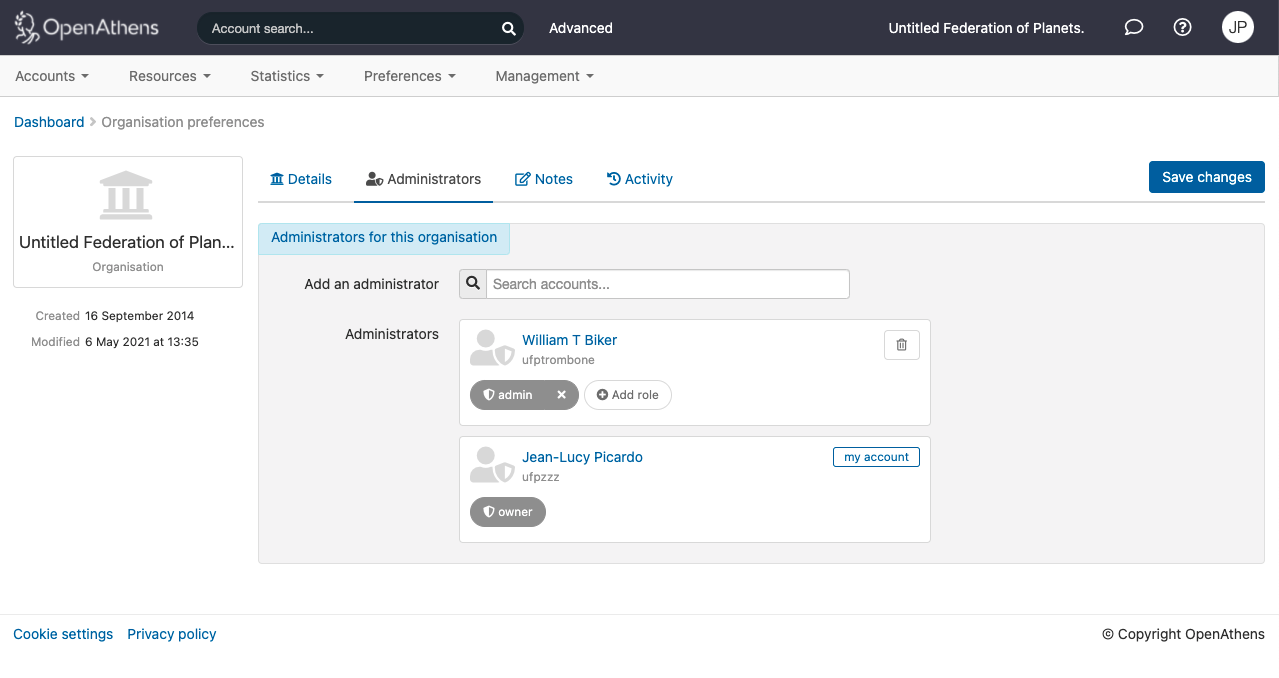 To add an administrator role to an OpenAthens account, find and select them using the search box on the page and give them the relevant role. The Owner role will only be available on the domain organisation.
Roles are added and removed on the same page and to remove all roles you can use the little trash icon on the account's card - it just removes roles, not the account.
When you're done, click on the save changes button.
At the moment it is only possible to add administrator roles to OpenAthens accounts - if you use local accounts you will need to add personal accounts for your colleagues before giving them the role.
Existing personal account that are given an administrator role will, for the time being, no longer be able to access other resources.