About Organisations and Sub-organisations
Your OpenAthens domain can be split into sub-organisations if necessary. The main reason to do so is if you have a part of your domain that needs to have its own identifiers for content - e.g. a group of hospitals have a consortia subscription to one provider, but one hospital in the group needs additional content. The other reason is if you need to define areas of responsibility for administrator users - e.g. a remote campus with its own library function.
Adding sub-organisations
On the organisation summary page (Management > All organisations) page click the dots menu next to the organisation or sub-organisation you want your new sub-organisation to sit under and select create from the menu.
Give it a name and an email address for users to contact - this can be the same as the public contact detail for the domain. That's the minimum - you may want to configure things further, such as swap the email address for a telephone or website...
Organisation details
To view or edit the organisation details, select edit from the dots menu next to the organisation on the organisation summary page, or if it's the organisation you signed in as you can use Preferences > Organisation from the menu. This will open on the main details about this organisation or sub-organisation.
The page starts with the EntityID and Scope that a provider would use to associate your users with your subscription to their content.
If you need a sub-organisation to have a distinct scope so they can subscribe to content separately, our service desk will be happy to help. When a domain or sub-organisation has unique identifier, the organisation name will be visible to users and service providers in various locations:
MyAthens
The organisation search on our authentication point

Organisation contact details
Because of this, name changes are more difficult and you should check for typos and uniqueness before committing.
Organisation details cover the name of the sub-organisation and any distinct discovery helpers - these help your end-users where discovery services (sometimes called WAYFs) allow them to enter their email address to find their home organisation. You should only enter the email domains that are unique to your organisation - e.g. myuniversity.ac.uk and not a webmail provider such as gmail.com. Enter the domains one per line.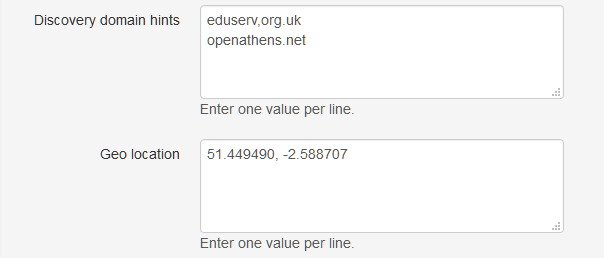 Geo location is another helper for discovery services that support it and you should enter the latitude and longitude of your organisation. If you have several locations you can enter them all, one per line. You do not have to list them on sub-organisations if you have listed them on the domain organisation. See also: finding your latitude and longitude.
This is also where you set and maintain the publicly visible contact details for this organisation if you want to go beyond an email address - e.g. if you want to add a name or a help portal.

These are the details that can appear in MyAthens and the authentication point to help your users find the right person to help them. You must enter at least one piece of contact information out of phone number, email address, or website URL, and you should enter as many of the others as possible to best direct the user to the right place for help; they are also used if your domain is large enough to require searching across organisations / sub-organisations. Including both the name and an email address is usually desirable in that situation.
If this account represents a domain or an organisation with a unique identifier, the contact details appear in:

MyAthens
The organisation list mentioned above
Account search results

If this account represents any other organisation, the contact details are only used in account search results.
If your domain administrator has added fields in the schema for organisation, they appear on this tab - this is often used by sites who have set up their own self-registration process using the API for things such as:
Organisation aliases - for alternative names for your organisation that may be used by your users
Trusted email domains - e.g. myorg.com (not @myorg.com)
Trusted IP addresses - e.g. 123.12.34.* or *.mydomain.net (not addresses with slashes or colons)
Administrators tab
This is where you assign administrator roles to accounts under this sub-organisation.
If you have just created this sub-organisation there won't be any accounts under it and depending on why the sub-organisation exists it may or may not need to have an assigned administrator.
It will need one if a colleague will need to sign in as that specific sub-organisation (e.g. if it's for a branch library or similar and that colleague should not be able to see or access the users elsewhere in your organisation)
It will need one if there if you want the system to send email alerts relevant to that sub-organisation

In both cases, the account will need to exist under that sub-organisation. Either move an existing account there, or create a new one, before assigning an administrator role.

It will not need one If the sub-organisation exists only for things like reporting or for presenting a different scope for some users
Activity
Covers the things that have been done to this organisation or sub-organisation.
Deleting organisations
If this account represents an organisation that does not itself own any sub-organisations, a delete button with a trash icon will appear to the left of the save button.
This button will permanently and unrecoverably delete the organisation and all accounts, permission sets, settings and other items it controls. If you need to keep any accounts, you will need to move them before you delete the organisation as this operation cannot be undone. Consequently the confirmation box on this function makes you tick a box before continuing.

See also: